De l'un et du divers. La région Rhône-Alpes et la mise en récit de ses langues
European regions, whether historically well-established ones or those of recent administrative construction, aim to acquire a legitimacy by means of spreading a genuine image and discourse of their own making. In France, the region Rhône-Alpes, a recent administrative unit where two regional languages are spoken, can but follow the trend. This article sets out to assess the ways in which the regional languages have recently been fitted in the regional council's institutional discourse on identification. The linguistic questions have become part of a carefully balanced discourse evolving around the issues of unity and diversity. The article asserts that those languages are enhanced for the sake of a regional discourse and one definite view of languages that eventually neglects the complex social processes in which speakers and promoters of these languages alike are involved.
La région Rhône-Alpes constitue à première vue un exemple particulièrement emblématique de la création des régions françaises sur des critères administratifs apparemment arbitraires, imposés par le pouvoir central. Pourtant, au même titre que d'autres régions à l'identité plus marquée comme la Bretagne ou l'Alsace, le conseil régional de Rhône-Alpes a cherché à forger une image distinctive de la région (certains diront une identité), à la fois à destination des citoyens qui vivent sur son sol mais aussi dans une visée de commodification de cette image à travers des activités comme le commerce ou le tourisme. Par commodification, il faut entendre la transformation d'un objet, d'une idée, d'une construction sociale en marchandise échangeable et/ou négociable dans un marché donné (voir Heller, 2003 ; Duchêne, Heller, à paraître).
Fichier principal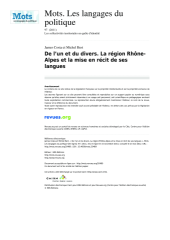 Costa_Bert_-_2011_-_De_l_un_et_du_divers._La_rA_gion_RhA_ne-Alpes_et_la_mise_en_rA_cit_de_ses_langues_2_.pdf (195.59 Ko)
Télécharger le fichier
Origin : Publisher files allowed on an open archive