Los mitos de la creación de las "Metamorfosis" de Ovidio (Met. I, v. 5-162) en la "General estoria" de Alfonso X
This work is the analysis of Ovid's reception in the General estoria in connection with the Latin models: Saint Jerome's Bible, Isidore of Seville's Etymologiae, Eusebius and Jerome's Chronicle, Petrus Comestor's Historia Scholastica, and Godefroi de Viterbe's Pantheon. All these works quote Ovid at the same parts as the General estoria. The study only deals with Creation myths corresponding to the Christian Genesis. The Alfonsine version of these myths is in deep debt to its models, since the latter legitimise the Latin poet's use for these specific contents. However, the Castilian reception is original, mainly because of its extraordinary literality, the length of the translated fragments and the place it occupies in the story of the world creation.
Ce travail est une analyse de la réception d'Ovide dans la General estoria en relation avec les modèles latins : la Bible de Saint-Jérôme, les Étymologies d'Isidore de Séville, les Canons chroniques d'Eusèbe et Jérôme, l'Histoire scolastique de Pierre le Mangeur et le Panthéon de Godefroi de Viterbe. Toutes ces œuvres citent des vers d'Ovide aux mêmes endroits que dans la General estoria. L'étude ne porte que sur les mythes de la Création qui correspondent à la Genèse chrétienne. La version alphonsine de ces mythes doit beaucoup à ses modèles, puisque ceux-ci légitime l'utilisation du poète latin pour ce qui est de ces contenus concrets. Néanmoins, la réception castillane est originale, principalement par son extraordinaire littéralité, la longueur des fragments traduits et de sa place dans le récit de la création du monde.
Fichier principal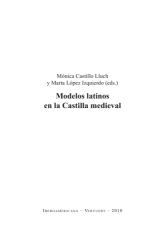 Separata_11._Los_mitos_de_la_creaciA_n_de_la_Metamorfosis_de_Ovidio_Met._I_v._5-162_en_la_General_Estoria_de_Alfonso_X_2010.pdf (596.55 Ko)
Télécharger le fichier
Origin : Publisher files allowed on an open archive